Whoa whoa whoa. It's
mid spring
already, guys. It seriously feels like I was just decking the halls with all things red&white while listening to the Carpenters on the Christmas radio station. Yet here I am trying my best to not run out in my swimsuit every time the sun peaks through the beautiful spring skies. It's here to stay, I tell myself. That blasted, toasty Texas sun. But it's so yummy right now and feels so wonderful on my wintery bright skin.
Me and the Hunnybuns have had the best walks in our stroller. Cruising the neighborhoods ... and the outdoor mall that just so happens to be right around the corner. I'm certain that my other half and I mention our love for our home's ideal location on a bi-weekly basis.
I'll be honest, I purposefully alternate my change in hair style, and clothes, and bjorn vs. stroller each visit I make into Hobby Lobby. It's embarrassing how often I stroll their aisles. I'm into creating pretty little things for my home. As in, I've stayed up late into the wee hours of the evening pinteresting it up on my phone. Brightness turned far too low in efforts to avoid notice from my sleeping Loverbuns. While only to wake up having CRAFTS! on my mind.
I live in addictions, ya'll
. Baking... Cooking... Reading... Cleaning... Exercising... Decorating... Dating/Relationship-ing (my one and only boy, of course)... TV Seasons (Shout outs to my favs The Firm, Alcatraz, American Idol, The Voice and my guilty pleasure ...Dance Mom's-- It's ok. I already know you'll be judging me from here on out.)
I'm going off topic. I have a sad little story to share. Earlier this month I had a small little break down. "Tear fest 2012" to be more clear. The people in my life who I am really close to will know that I'm a super sensitive, wear my heart on both my sleeves kind of girl. I take many things far too personal and can, in many circumstances, get distracted from the most important things and relationships in my life. I'm learning that my sensitivity can be both my biggest strength and most detrimental weakness.
Especially
when it comes to myself. As a spankin' new mommy, I was finding it difficult to create a balanced life. And I was needing to discover how I fit into this new role as a mother. No longer a student. Or the employee with the 8am-5pm job. Or the girlfriend without any kiddos. My new life has a role with no rule books, no class schedules, no co-workers, no boss. It has everything
except
what I am familiar with.
How do I balance all of these encouraging and exciting new parts to my life?
My sweet hubs and I recalled a discussion at BYU with a professor and was reminded that
you simply can't balance everything at once.
I can't balance these addictions that I mentioned previously all at once. I need to prioritize my life with what
feels right for me at the moment
, and give that my complete energy and attention. And to stop giving myself an awful time for not doing more and being more. I finally realized that making changes requires hard work and being OK with being a different version of myself. I will feel a push to focus on my relationship with those that I love. Then, I will have times of feeling a deep desire to dig deep into my soul and strengthen my love for the Savior and His church.
And now,
crafting
. Simply put, it
makes
me happy. It fills my little cubicle of domestic accomplishment. I get to re-live the loveliness of said craft each time I stroll through the living room.
I found my inspiration for my Easter jars from the Christmas Apothecary jars made by the girls at
Uncommondesign
.
Wod candlesticks & round bases & finals, ceramic & wood glue, glass canisters, funky wooden letters, ribbon, sandpaper, and my favorite spray paint and sealer.
Ooh yea. We bought this hawt piano. Isn't it beautiful?! I love the curvy legs and scrolly music stand! But I wasn't diggin' the chicken wire wrapped behind music stand or the light color of the stain. Kind of a drab, right?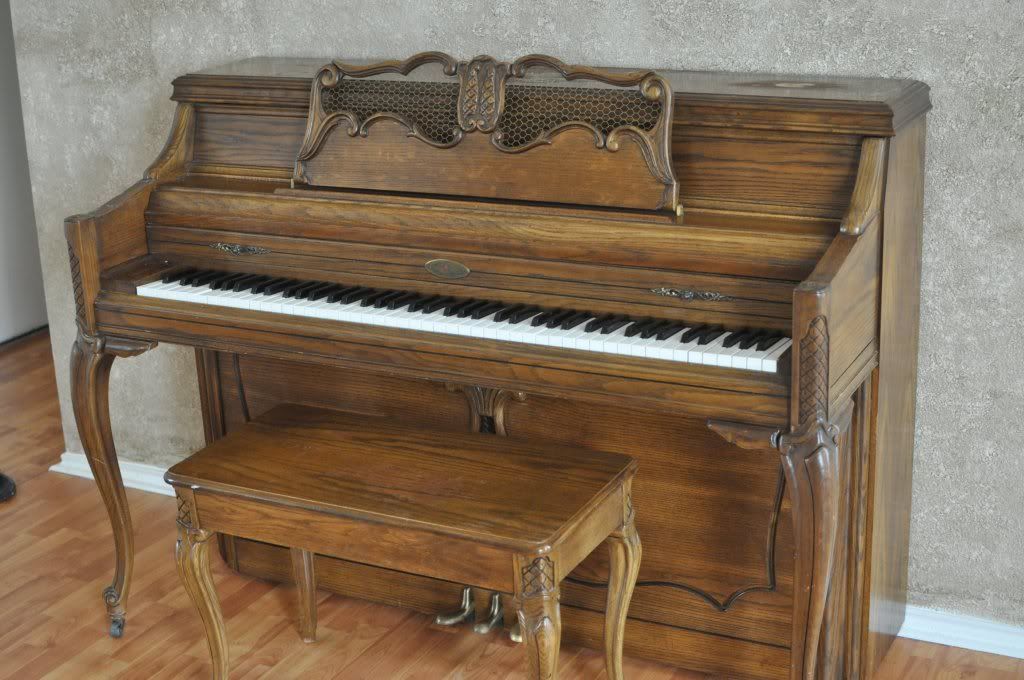 Soooo... we ripped off the chicken wire and re-stained the entire piano! I'm so excited about how it turned out!
(A few weeks ago, I wanted to change my blog template and everything got all sorts of messed up and I lost all of your blog websites that I would typically stock. I am so sad about it. It may take me a while to find all of your addresses again!)
Ps. Thank you for the lovely birthday wishes! Loverbuns and I really look forward to our shared birthday week. I spent the day grocery shopping, visiting teaching, and Savannah spent the evening having some quality grandparental time. We spent a beautiful night at home indulging on our favorite splurges including filet mignon. We're talking eyeball-rolling kind of good. It was just ridiculous how tender it was ... even forgetting to add A1 sort of amazing. amc gave me a massage that would make your little toes tingle. Dropping the cherry on top, this boy busted out with a surprise hand-written love letter. Not some phony cheesy story, but rather a completely genuine letter from the heart. He's kind of a gem like that. Afterwards, we went to a few shops at the mall and picked up a few super cute outfits on our parents tab.
It will go down as one of the sweetest dates I've been on!
Yours truly, Me